February 27: Marina Abramović book signing
February 27: Marina Abramović book signing
Date: Saturday, February 27, 2010
Time: 3:00 PM to 4:00 PM
AT P.S.1
In advance of her MoMA retrospective, Marina Abramović : The Artist is Present, the artist will sign copies of the exhibition monograph and latest publications in the Bookstore.
In conjunction, Abramović has invited Davide Balliano to present, But I Wasn't Young Anymore, a day-long performance that transforms abstract notions of life and death into a tangible experience. Balliano performs from 12-6pm in the 1st floor Painting Gallery.
thanks, Casey
Living Under the Same Roof— exhibition at the Hessel Museum of Art from the Bard Center for Curatorial Studies
Living Under The Same Roof: The Marieluise Hessel Collection and the Center for Curatorial Studies is the result of an intensive research and teaching program organized by Ana Paula Cohen during her time as Curator-in-Residence at the Center for Curatorial Studies. Each year the Center invites an outside curator to work with our graduate students to investigate the Marieluise Hessel Collection and consider how to create an exhibition within the galleries of the Hessel Museum of Art. Ana Paula Cohen has proposed less an exhibition and more a process through which the scope of the collection is brought out into the open for the public to examine; in turn, this process grants the public direct access to the works themselves. Over a series of months, the museum will in effect become a laboratory in which anyone may participate. It is a simple, yet radical, move that up-ends the often closed systems within which the public encounters art within the context of the museum. In essence, Cohen has brought the more than 2,000 artworks, artist books, videos, and films out of storage, providing a platform to explore how we can "activate" the collection.

The exhibition presents a mapping of the entire collection – developed in collaboration with Paris-based Brazilian artists Angela Detanico and Rafael Lain – in an attempt to open up, to an interested audience, the idea of the collection as a system with variable entrances. The public is invited to select works from storage to be seen in a viewing room in the museum space. The works will be displayed in a rotating system according to weekly requests. The exhibition also focuses on two sub-collections: the artists' books (including works by Marcel Broodthaers, Joseph Kosuth, Robert Smithson, Stephen Shore, Matt Mullican, and Rosangela Rennó) and the time-based media works (film, video, or audio works by artists such as Joan Jonas, Nancy Holt, and Christian Marclay). The intention is to understand the specificities of these other areas of the collection and to emphasize their importance within the Hessel Museum structure. The display of Living Under the Same Roof functions as an apparatus articulating the dynamics of each part of the exhibition and its relation to the audience. The structures were developed in collaboration with Bogota-based artist Gabriel Sierra, in order to accommodate both the artworks and the public, according to the specific use of each space.


Related Programming

Conference:
About Particularities: How To Collect and Display Artistic Practices in Contemporary Art Museums?
A one-day conference with the participation of Jan Debbaut, Marysia Lewandowska, and Cecilia Widenheim, Hessel Museum of Art, Center for Curatorial Studies
February 20, 3-5p.m.

The starting point for the project Living Under the Same Roof is an investigation of the mechanisms that constitute any museum collection as a system, and the way each collection functions according to its own idiosyncratic logic. This project takes the Marieluise Hessel Collection as a specific object of study, rendering its structure and its artworks accessible to an interested audience. The conference "About particularities" will expand this examination with reference to the specific collection and display practices at other contemporary art museums, such as the Van Abbemuseum in Eindhoven, the Tate Modern in London and the The Pontus Hultén Study Gallery at the Moderna Museet, Stockholm. What does it mean to classify and physically organize a collection of contemporary art? How to create an acquisition policy that reflects the current program of the museum? How do contemporary artists engage with this issue, and how are new platforms created to organize and present practices that result in production beyond the discrete object?
Limited free seating is available on a chartered bus that leaves from New York City for the February 20 opening. The bus returns to New York City after the opening. Reservations are required; call 845.758.7598 or email ccs@bard.edu.
2010 Brucennial— feb.25, 350 W. Broadway
I think the Brucennial is like—in the life of the people—it's like an anniversary in the life of people. The people, they need moments to celebrate themselves and that's what a Brucennial is. The Brucennial happens every two years, or really, you know, whenever we feel like it, and it's a moment of celebration of the history of the people—of the reason why the people exist, of the nature of the people. Again, it's like a person. If not there would be a flux of time without an interruption and I think that as people, people are live entities and they need to have some moments where they recognize this liveliness of their existence.
-Francesco Bonami


SoHo: The Bruce High Quality Foundation is pleased to announce the opening of The BRUCENNIAL 2010: Miseducation on February 25th at 8pm.
Since its founding, the BRUCENNIAL has evolved into The Bruce High Quality Foundation's signature public program, as well as the most important survey of contemporary art in the world ever. Following the triumphant successes of BRUCENNIAL08: Doing it Again (Bushwick) and BRUCENNIAL09: Smithumenta (Carrol Gardens), BRUCENNIAL2010: Miseducation brings together 420 artists from 911 countries working in 666 discrete disciplines to reclaim education as part of an artist's ongoing practice beyond the principals of any one institution or experience.

The BRUCENNIAL will be housed at 350 West Broadway. Additionally, BHQFU projects will be on view at RECESS at 41 Grand Street. Performances will take place on the evenings of February 25th, 26th and 27th.
Morton Subotnik in conversation with Andy Battaglia
FEBRUARY 14 (sunday) (FREE) at the Wyoming Building. at 5:00PM
Dialogue: Morton Subotnick talk with electronic-music pioneer Morton Subotnick, whose career goes back to the 1960s and includes some of the most important early work with modular synthesizers in the popular realm. Anecdotal talk focuses on Subotnick's work, both as it plays into history and as it has evolved into the present. In discussion with music journalist Andy Battaglia (A.V. Club, Pitchfork).Tickets: Free
http://unsound.pl/en/festival/program/schedule/unsound-festival-new-york
Tour of LaMonte Young's Dream House in TriBeCa
FEBRUARY 11 (Thurs) 6:00pm Free. meet at 5 East 3rd Street (wyoming building).
Walking Tour: Dream HouseUnsound leads a walking tour to composer LaMonte Young's Dream House in Tribeca. A discussion of the installation, in process now for 17 years, will help provide context at the Wyoming Building, followed by an experience of the work on-site, in a loft with plush carpeting, pillows on the floor, and banks of big speakers.Tickets: Free
http://unsound.pl/en/festival/program/schedule/unsound-festival-new-york
A musical homage to Andy Warhol's "Empire"
FEBRUARY 6. ((Free!)) Le Poisson Rouge (158 bleecker st.) at 12:00-8:00 (i can only assume they mean noon)
As a part of Unsound Festival, "Empire" (Jan Jelinek, Andrew Pekler, Hanno Leichtmann) will be performing an 8-hour musical showcase to Warhol's iconic "Empire" - a single shot of the Empire State. Part concert, part installation, the concept fits into the proto-fluxus conception of the band, whose goals and manifesto work against repertoire. Commissioned by Unsound and Goethe-Institut New York as part of the Warhol series.
12:00 Hanno Leichtmann
12:00 Jan Jelinek
12:00 Andrew Pekler
12:00 Groupshow
http://unsound.pl/en/festival/program/schedule/unsound-festival-new-york
BLOG THIS! Blogging the contemporary arts, a panel discussion
JANUARY 15 (friday). 6:30 PM. at X-INITIATIVE (548 W. 22nd St in Chelsea) FREE
____________________________________________________
Moderator: Robin White
Panelists:
Barry Hoggard, Bloggy, ArtCat, Culture Pundits: blogger, collector, entrepreneur
Paddy Johnson, Art Fag City: news and opinion blogger, writer
William Powhida: artist, blogger
Kelly Shindler, Art21: educational blogger
Edward Winkleman: gallery owner, blogger
Blogs about contemporary arts and the art world play an increasingly important role by providing multiple viewpoints, information and commentaries about the art market, the gallery scene, artists and their work on a daily basis. As the number of printed newspaper and culture journals decreases, some blogs are becoming a source for substantial art journalism and art criticism. By pairing the 5-most read, and hotly debated, bloggers of New York City, we want to touch on a topic that is timely and relevant, and offer a dynamic and lively conversation at the X-Initiative.
We have curated the panel to incorporate a wide spectrum of practicing bloggers: from art news to art education, from the perspective of the art market including both the point of view of an artist and a gallerist, and those who are taking the online art world to a whole new-networked level.
http://www.memberize.com/clubportal/EventDetailPublic2.cfm?clubID=158&EventID=111115
Iannis Xenakis: Composer, Architect, Visionary (at the Drawing Center)

Iannis Xenakis: Composer, Architect, Visionary

JANUARY 15-APRIL8 at the Drawing Center (35 Wooster St.) (Opening JANUARY 14, 6-8PM)
Iannis Xenakis: Composer, Architect, Visionary explores the fundamental role of drawing in the work of avant-garde composer Iannis Xenakis (1922–2001). One of the most important figures in twentieth-century music, Xenakis originally trained as an engineer and was also known as an architect, developing iconic designs while working with Le Corbusier in the 1950s. This North American premiere of Xenakis's visual work is comprised of samples of his pioneering graphic musings, architectural plans, compelling preparatory mathematical renderings, and pre-compositional sketches—in all, nearly 100 documents created between 1953 and 1984. The exhibition is accompanied by an exciting schedule of public programs, concerts, and symposia around New York City. Co-curated by Sharon Kanach and Carey Lovelace, the exhibition will travel to the Canadian Centre for Architecture (June 17 – October 17, 2010) and the Museum of Contemporary Art, Los Angeles (November 7, 2010 – February 13, 2011).
(ok, so there's this really intense schedule of events to go along with the exhibition— so here it is)
Public Programs
January 15, 7–10pm, performances every half hour
Electronic Music Foundation: Poème Electronique, a virtual-reality re-creation of the Phillips Pavilion, Brussels World's Fair, 1958
Judson Church, 55 Washington Square South (INCREDIBLE!!!!)

January 19, 7:30pm
A Xenakis Triple Gala - concert, book launch, and inauguration of The Xenakis Project of the Americas
Elebash Hall at the Graduate Center of City University of New York, 365 Fifth Avenue

January 28–30
Xenakis: Past, Present, Future, colloquium with The Brooklyn Experimental Media Center and The Xenakis Project of the Americas
Pfizer Auditorium/Dibner Building at Polytechnic Institute of New York University, 5 MetroTech Center, Brooklyn

February 5, 6:45–8:30pm
Concert by JACK Quartet of Xenakis's complete String Quartets
The Morgan Library & Museum, 225 Madison Avenue

February 6, 7pm and February 13, 20, and 27, 2–8pm
Daniel Teige performs selections of Xenakis's electronic music
Diapason Gallery, 882 Third Avenue, 10th Floor, Brooklyn

February 21, 3–5:30pm
Iannis Xenakis: The Percussion Music, panel discussion and performance
Frederick Loewe Theatre – NYU Steinhardt Percussion Program, 35 West 4th Street

February 28, 8pm
Xenakis and Japan, a music/dance event produced by Electronic Music Foundation, choreography and production design by Luca Veggetti
Judson Church, 55 Washington Square South

March 16, 7pm
French Transmission, a concert by the Montreal-based ensemble
Elebash Hall at the Graduate Center of City University of New York, 365 Fifth Avenue

March 24, 7pm and 9pm
Film Screening of Something Rich and Strange, Orient-Occident: Images d'une Exposition, Charisma X and La Légende d'Eer
92YTribeca, 200 Hudson Street
______________________________________________________
here's an example of his music: http://www.youtube.com/watch?v=Yge7GNl5p_k
MUSINGS: Foofwa d'Imobilité/Neopost Ahrrrt (US premiere)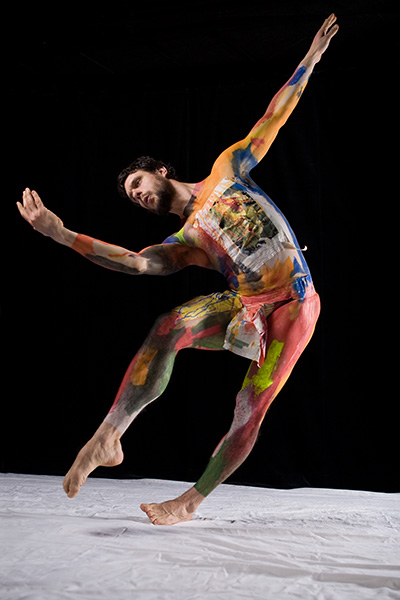 Musings Involuntaries 1-6 Choreographed and performed by Foofwa d'Imobilite
JANUARY 21-24
Thursday, Friday, Saturday at 8:00pm, Sunday at 3:00pm
($17, $10 rush tickets) At DANCE NEW AMSTERDAM 280 Broadway, 2nd Floor (entrance on Chambers)

Musings should have been a duet and will bear the mark and weight of
absences, hence its subtitle: "solitary duet." The piece is structured in
a succession of several "musings," separated by nothingness.

The title implies the notions of "daydreams," "meditations," "reflec-
tions," "studies" and "introspections." Each "musing" includes a moment of
meditative study around some of Merce Cunningham.s and John Cage's ideas -
independence of dance and music, using chance as a way to make artistic
decisions and Zen Buddhist philosophy applied to theatrical art = adding a
curious and lively look to it. - Foofwa d'Imobilite
http://www.dnadance.org/site/performances/dnawinter2010/foofwa-neopost/
on Foofwa:
If a background in the Cunningham technique forms the bedrock of his work, Foofwa also ventures into uncharted territory, taking risks and pushing his body to its uttermost limits. No doubt because of his past – superb training and topnotch stage experience – he has no qualms about flouting, even shaking up, convention : He does so quite unawares.
http://nznl.org/digital_bodies/Foofwa%20d%20Imobilite.html
__________________________________________
i'm thinking yes!
BYOA (Bring Your Own Art)
FEBRUARY 3. Free. X-Initiative.

Please save the date for our closing event celebrating the end of X Initiative: Join us on FEBRUARY 3rd for BRING YOUR OWN ART, a 24-hour event inspired by Walter Hopps's Thirty-Six Hours, an event that the legendary curator organized in the Museum of Temporary Art in Washington, DC in 1978, where Hopps installed anything that anybody brought to the museum. Artists, galleries, curators, collectors and enthusiasts are invited to site and install art at X Initiative, which will be open for viewers and participants for 24 consecutive hours. BRING YOUR OWN ART is a temporary occupation which mirrors X's activity for the last twelve months. A gathering for the closing of X initiative, BYOA offers a DIY platform where any kind of art can be exhibited at this historic site. X Initiative will collaborate with Adam Simon of Fine Art Adoption Network (FAAN) for this event. FAAN is an online network ( http://www.fineartadoption.net ) that uses a gift economy to connect artists and potential collectors (adopters). Details to follow.